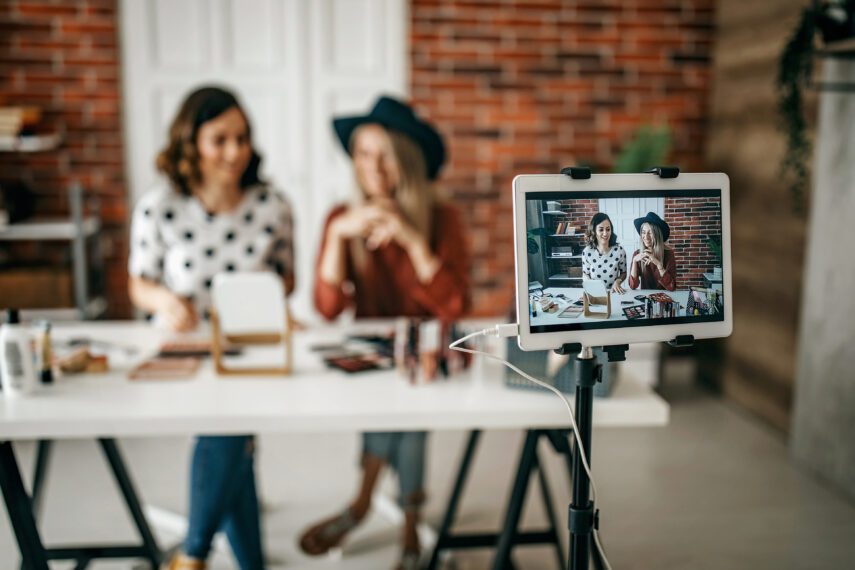 Research shows that influencer marketing was a $16.4 billion industry in 2022. What brand wouldn't want a piece of that success? Perhaps contrary to popular belief, this endeavor is not as easy as finding an influencer with a large following and sending them a script and a contract—at least, not if you want the message to land with your target consumer.
While influencer marketing has become a powerful tool for brands that desire to drive sales and increase awareness, achieving true success requires a dedicated strategy with influencers who have a natural connection to your brand.
Effective influencer marketing starts and ends with one word: authenticity. But how do you make that perfect match?
It all starts with a first date
Maybe you have an influencer in mind you want to work with, or perhaps you're starting your search from scratch. Your first interactions will be like a first date. If things click from the very beginning, your partnership could lead to a long-term commitment.
Chances are, you wouldn't schedule a first date without an initial spark. You need to have something in common to create that lasting partnership. When searching for that perfect match, you should look at who your brand appeals to—and who your influencer appeals to—to ensure your messaging and creative strategies align.
Consumers generally respond better to influencers who act and look like them. That's why accurately identifying your target consumer, along with the influencer's main audience, is so important. In the end, it makes it easier for consumers to see how they would use your product or service.
Gen Zers and Millennials are the ones most likely to purchase items based on influencers' recommendations. Gen Z alone has more than $360 billion in disposable income. That's a lot of success potential if you appoint influencers who effectively engage their followers with your brand.
This has a lot to do with an influencer's voice and reach, but don't be fooled by the notion that more means better. Research has proven that nano- and micro-influencers—those with 1,000 to 10,000 followers and 10,000 to 100,000 followers, respectively—often work better for campaigns. In fact, micro-influencers drive 60% higher engagement rates than their macro-influencer (more than 100,000 followers) counterparts.
Second date: Look deeper to vet your match
You made it past the first date, but how do you know your relationship will last?
Finding the perfect influencer partnership can seem daunting, but luckily, there are partners who can help simplify the process. Think of them as the friend who sets you up on your first date and advises you through the process.
Instead of working with an influencer partner who contracts out the work to a third party, look for an agency that can manage your influencer partnership all the way from contract to completion. They should understand how to find the right fit based on your brand's voice and tone, all while creating a strong relationship with the influencers themselves.
Like any good wingman, agencies should vet influencer partners by getting to know them and their follower's motivations and behaviors and how they match with your brand. For instance, how does the content that the influencer is posting align with your values? Are they promoting other like-minded products or services, or does it feel off? This vetting process will lead to a more profitable and genuine partnership.
This work is exclusive to partnering with an agency that truly understands the ins and outs of influencer marketing. Rather than simply submitting an order to a third-party platform for what you think you need and who you think you want to work with, we take the time to do things right from step 1, ensuring a successful partnership with guaranteed results.
An ROI worth the relationship
Influencers you engage with should ultimately become brand ambassadors. Successful collaborations can only happen when the company and the influencer are honest and genuine about their relationship. People can sense an inauthentic endorsement from a mile away, and at the end of the day, they most strongly trust those they feel they know.
According to Influencer Marketing Hub, 21% of consumers have reported unfollowing influencers who are not transparent about product reviews, partnerships, and ads. Both on and offline, people crave honesty, and more importantly, authenticity. A review that is clearly scripted or allows for no creative freedom will not end well.
Trust and credibility are dealmakers when it comes to purchasing decisions. In fact, 61% of consumers trust influencers, compared to the 38% who trust the actual brands. This explains why most people are more likely to purchase a product based on a friend, family member, or influencer's recommendation rather than traditional advertising.
Trust can translate into significant returns on investment, which not only benefits the consumers, but also the brand's visibility and revenue. Research highlights that the ROI for influencer marketing is nearly 11 times that of traditional marketing, with $285 in sales per 1,000 views. Talk about a relationship that works.
Authenticity matters, but how do you get there?
When partnering with an agency like STIR, you can feel confident in the influencer relationships we discover. We work hard to develop meaningful insights that will ensure an influencer is a great fit for your brand, and vice versa. We train them on a one-to-one basis and ensure your brand voice shines through their content.
We conduct thorough research to make sure your brand aligns seamlessly with the influencer you choose. Not only do we get to know them, but:
We get to know their motivations.
We analyze their audience and what they respond to.
We interview them and gauge their excitement around your product.
We use them to their strengths and encourage them to exercise their individuality and creativity.
Influencers list creativity as a top priority when working with brands, and we never lose sight of that. We know exactly how to strike the balance between 100% on-message and spontaneity while serving as valuable thought partners. Authenticity means granting influencers the freedom to talk about your product the way they want to while still abiding by your brand's guidelines.
Influencer marketing is not one-size-fits-all. To make your campaign resonate with your audience, it is important to work with different influencers for each initiative—that is, if they fit your brand's voice and goals. We can help you achieve brand-influencer harmony. Contact us to get started.
More Insights