STIR is a Milwaukee ad agency consisting of seasoned pros working together to serve our client partners by generating brilliant strategy and disruptive thinking in a more nimble and impassioned agency. We've succeeded in changing the fortunes of companies. The team is made up of inquisitive minds that push past boundaries to a shared vision that meshes and produces robust results.  We don't settle for mediocrity. We fearlessly find greatness.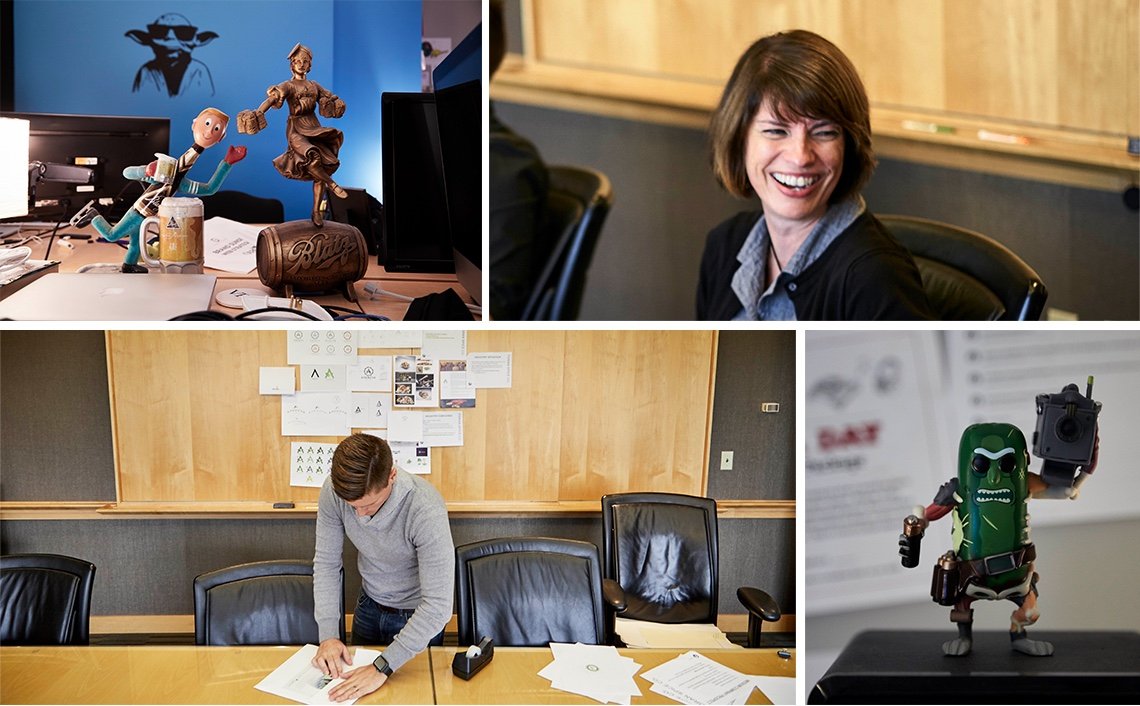 Our creativity knows no boundaries. The work we create for clients pushes far beyond convention to give each brand a unique point-of-view and an unbreakable connection with its customers. Whatever form the work takes, from online to offline to experiential, it always starts with a central idea rooted in strategic insight. It's daring, but never foolish. Our shelves sit heavy from the weight of awards, that prove the worth of our work. But, we believe the real proof can be found in the results, not in the trophies.
We've built a culture on shared values, creativity and the occasional happy hour
We are….
…FEARLESS
Creativity drives you and the unknown is your comfort zone. You push past every boundary to find greatness.
…COLLABORATIVE
You're a supportive ally to your coworkers and a mutually beneficial partner with clients. You truly believe in the multiplier effect of multiple disciplines working together.
…INTELLIGENT
You think first and act second, and never stop learning. Your decisions are rooted in strategy and insights, and the bottom line is always top-of-mind.
…COMMITTED
You believe in the agency, have its best interests at heart and enthusiastically help it succeed. Doing what you say and following through is the only way you do things.
…KIND
Others would describe your actions as caring, respectful and genuine. You mean well and do well, and your passion and pride are always directed toward the common good.
Check out our thoughts on what it takes to thrive in marketing… as we see it.
Our brand experience by category
Retail
Cousins Subs
Pick 'n Save
AT&T
Milwaukee Bucks
Food Beverage
Odyssey Feta & Greek Yogurt
Miller Brewing Company
Jim Beam Brands
Ralston Purina
Conagra Brands
Sargento Foods
Anheuser-Busch
Financial
Bank Mutual
Rural Mutual Insurance
Valuation Research Corporation
Catholic Financial Life
North Shore Bank
Associated Bank
U.S. Bancorp Fund Services
Manufacturing
ABB Group
Johnson Controls
Master Lock
Quad Graphics
We Energies
Generac Power Systems
Pacific Cycle
Kimberly – Clark
Johnson Wax
Healthcare and Medical Products
Philips Imaging
GE Healthcare
Flight for Life
Versiti, Inc.
Elekta Oncology
American Cancer Society Wisconsin
Agnesian Healthcare, inc.
St. Joseph's / Candler Healthcare
InControl Medical, LLC
Dohmen Life Science Services
Dr. Comfort Shoes
Hospitality
VISIT Milwaukee
Meet Chicago Northwest
Wisconsin State Fair
Sonora Mexico tourism
Adelman Travel Systems, inc.
Visit Savannah