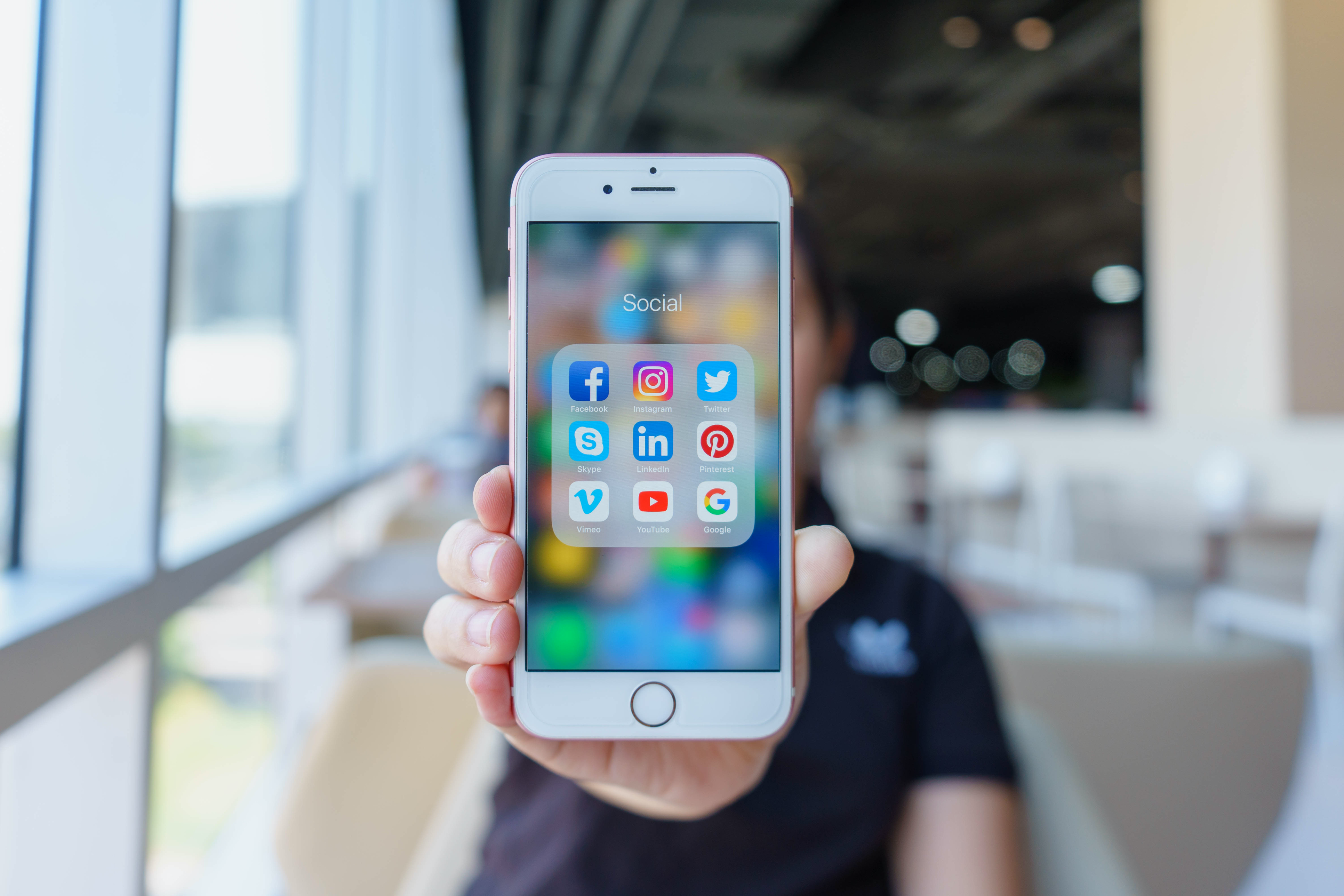 This year, shoppers are expected to spend between 8.5% to 10.5% more – both online and offline – than they did in 2020, according to Forbes. To rake in profits and provide the best customer experience, brands need to implement solid social media strategies to drive traffic and transactions. In addition to the traditional flashy in-store promotions, direct mail catalogs, and catchy television commercials, social media is undeniably one of the biggest drivers of shopping.
Social media offers a personal way to connect with consumers that drives engagement and sales. Not only is social media affordable and approachable, but as the past several years have shown, it also has a more widespread audience than any other major marketing channel.
43% of shoppers research products via social networks.
Here are some simple ways to better leverage your company's social media channels year-round.
Implement shoppable posts
If you're promoting products on social media, it's important to make sure your posts are shoppable. This makes it a cinch to complete purchases in just a few clicks. There are plenty of affordable and intuitive e-commerce solutions to implement for Facebook, including Shopify and BigCommerce. From browsing to checkout, Instagram and Facebook allow you to tag products directly in your posts and Stories so users don't even have to leave the app to complete the process. When a user taps a product-tagged photo, a bubble appears with the product's name and price. From there, they are led to the real product page within Instagram's exclusive in-app browser.
Every month, more than 130 million Instagram users tap on shoppable posts to learn more about products they see.
Take advantage of retargeting
Retargeting is a method by which customers who bounce from your website or social media page are reintroduced to your brand via digital advertising. These ads increase brand awareness and, ideally, total conversions.
Retargeting is a cookie-based technology that uses short lines of JavaScript code to "follow" customers around the web. For example, if someone visits a retailer's website and lands on a particular product page but does not convert during that session (i.e., does not make a purchase), they will likely see an ad for that same product in their social feeds or on a banner ad soon after. This happens because the cookie is fired – or activated – on that page, gets stored in the web browser, tracks their online activity, and collects key behavioral data. Brands can set up timely and relevant retargeting ads to be displayed across websites and on all major social networks, including Pinterest, Facebook, Instagram, and Twitter.
Another type of retargeting ad is one you've probably seen while browsing your own social media feeds. Dynamic ads are personalized retargeting placements that feature the exact product someone was browsing. This allows the customer to pick up right where they left off and regenerate their initial intent to purchase. With dynamic ads, brands can guide users further down the sales funnel and reduce the number of abandoned carts.
Employ the power of video
Time and time again, video has proven to be one of the most compelling visual media. Video allows brands to tell stories in a creative, concise fashion and capture viewers' interest within mere seconds. Video content typically performs better than static images or plain text with most social networks' algorithms. This is simply because videos naturally seize people's attention for longer periods of time.
Videos on Instagram and Facebook generate more engagement than any other content type, and tweets that include video see 10 times more engagement.
To learn a few tips on how to constructively use video on your social channels, read STIR's featured article in PR Daily.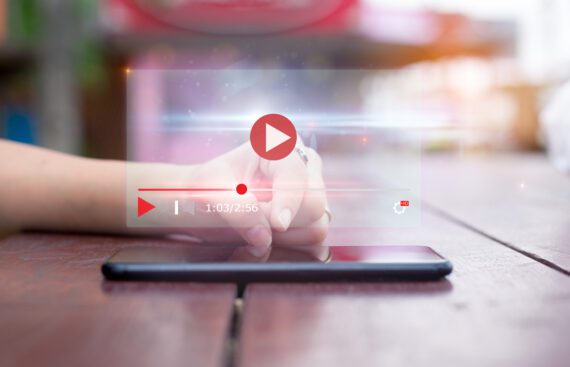 Enforce a community management game plan
One way to humanize your brand on social media is to be consistent with community management – the way in which a brand interacts with its followers and prospects. Respond or react to comments as quickly as possible (typically within 24 hours) to engage in authentic conversation with your customers. You can even set up automatic responses in Facebook Messenger and your preferred email platform so when customers reach out with questions, they see an immediate message letting them know someone will respond as soon as possible. Of course, make sure to follow up with your promise by getting back to them in a timely manner and pointing them in the right direction. This avoids leaving someone hanging, which can be frustrating and stressful.
Optimize your search efforts
Search engine optimization (SEO) has no time to rest. For the most effective SEO, take time to regularly update your keyword strategy, which not only takes into account your brand's main website but also your social media channels. The higher your brand appears on a search engine results page, the more likely a user is to navigate to your site or social network before your competitors' pages.
Cross- and up-sell your offerings
Personalization matters more than ever, and knowing what your customers are buying and offering ways to fulfill their shopping experience is key. This is where cross-selling and up-selling often come into play. Cross-selling – a practice in which customers are encouraged to buy complimentary or supplementary products – and up-selling – a sales strategy in which customers are influenced to buy something that would make their purchase even better – are tried-and-true marketing approaches that have been leveraged since far before the advent of social media. For example, if you purchase a yoga mat online, the same brand may serve you ads for a matching travel bag (cross-selling) or an aromatherapeutic mat spray (up-selling).
To implement these methods effectively via social media, email, and other digital channels, it's important to get to know your customers on a level that's deeper than merely transactional. Keep track of their online behaviors, past purchases, engagements, and other key factors. From there, you can cater to them by serving personalized recommendations.
71% of consumers expect companies to deliver personalized interactions. 75% of consumers become frustrated when this doesn't happen.

McKinsey
So, how exactly are users served these types of ads that entice them to check out additional relevant products? To put it simply, it all boils down to using the right data on the right channel at the right time. To accomplish this, it's important to keep a well-maintained inventory system and customer relationship management (CRM) platform. This will allow you to manage and monitor your customers' purchase history and other engagement points, which in turn allows you to engineer your retargeting, cross-selling, and up-selling efforts more effectively.
Openly express how your brand gives back
Now, more than ever, today's consumers care about companies' values and how they contribute to their communities and the world at large. Make it a priority to showcase how your brand is benefiting humanity. Some ways to use social media for good – other than purely promoting and selling products – are to pledge a dollar amount of every sale to a charitable organization or to share how your company's staff is helping community members in need.
An example of a brand doing this well (and without being pretentious) is ThredUP, an online consignment shop that buys and sells customers' secondhand clothes and accessories. In addition to showing off an incredible array of inventory on its social channels, ThredUP consistently promotes its core values, which include cutting waste, saving energy, spending less, and creating a better future for the fashion industry.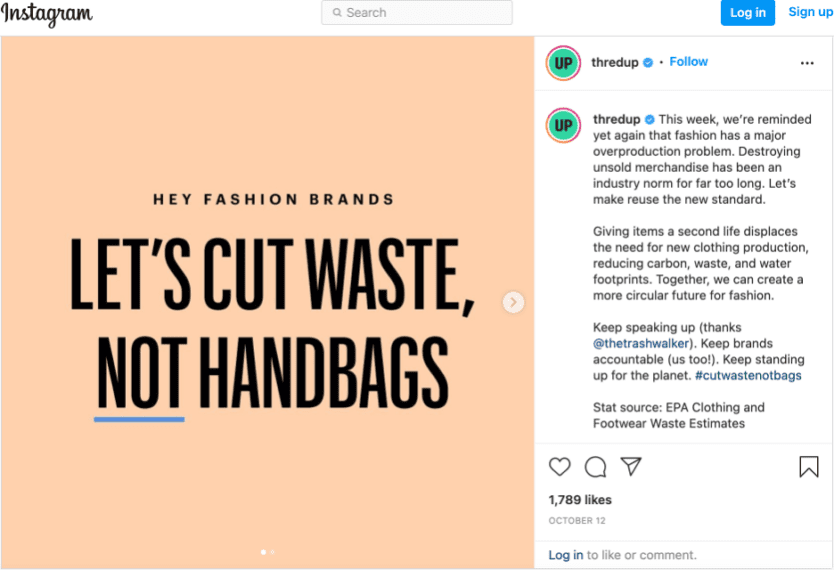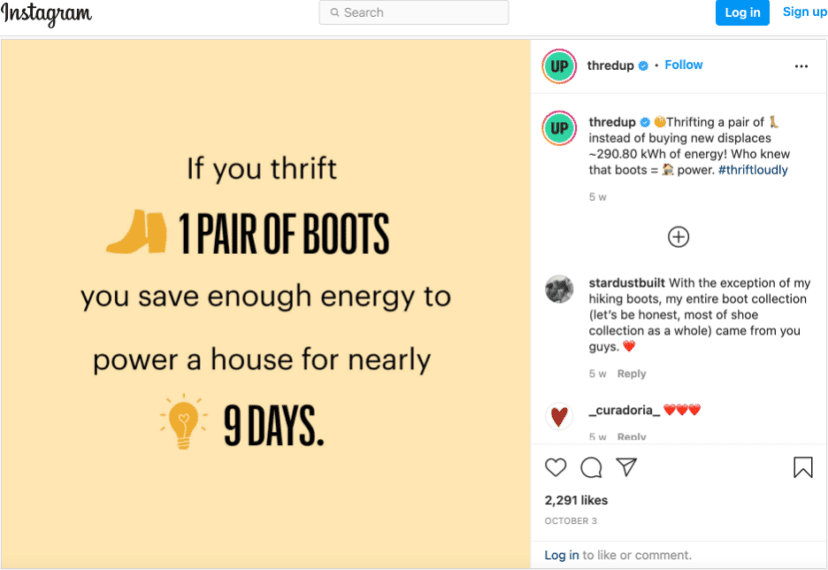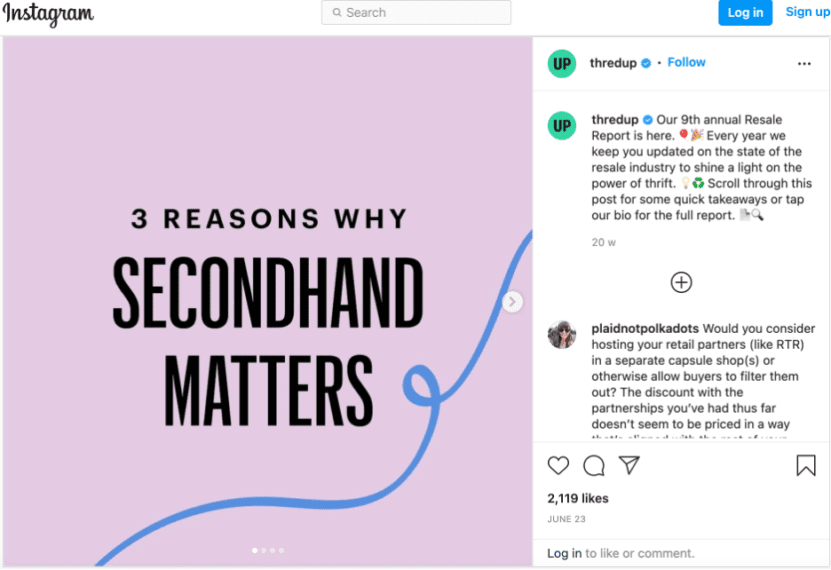 If you're looking for more ways to enhance your social media presence, drop us a line. We're happy to help! Reach out to STIR's Social Media Director Josh Arter (josha@stirstuff.com) to get started.