Outsmarting and outperforming national competitors
Rural Mutual Insurance Company is a Farm Bureau Insurance company licensed only in the state of Wisconsin. To compete in an industry that is dominated by national players known for massive marketing spending, they needed a smarter, more targeted marketing strategy and a modernized infrastructure.
In fact, over a five-year period, RMIC has outperformed its national competitors, growing its market share in a variety of lines by utilizing highly attributable digital marketing techniques.
Building a marketing machine one piece at a time
STIR has built and has maintained RMIC's brand website, driving SEO and organic traffic to the highest levels of performance with both on-page and off-page solutions. Installing and managing HubSpot as a CRM and marketing integrator has helped to elevate the engagement and accountability of marketing efforts. Lead generation and conversions to ever higher and more cost-efficient levels each year.
RMIC now has a fast and elegant website that converts visitors into applicants at an exceptional rate.
Driving traffic and sales with integrated content campaigns
RMIC's power positioning is as a Wisconsin-based firm that understands and invests in the people, farms, and businesses located exclusively in the Dairy State. We target these audiences geographically as well as with content that demonstrates our interest in and knowledge of their situations. Digital and social campaigns engage consumers with fun, relevant, and interesting content that is promoted across an array of media.
Love It or Leave It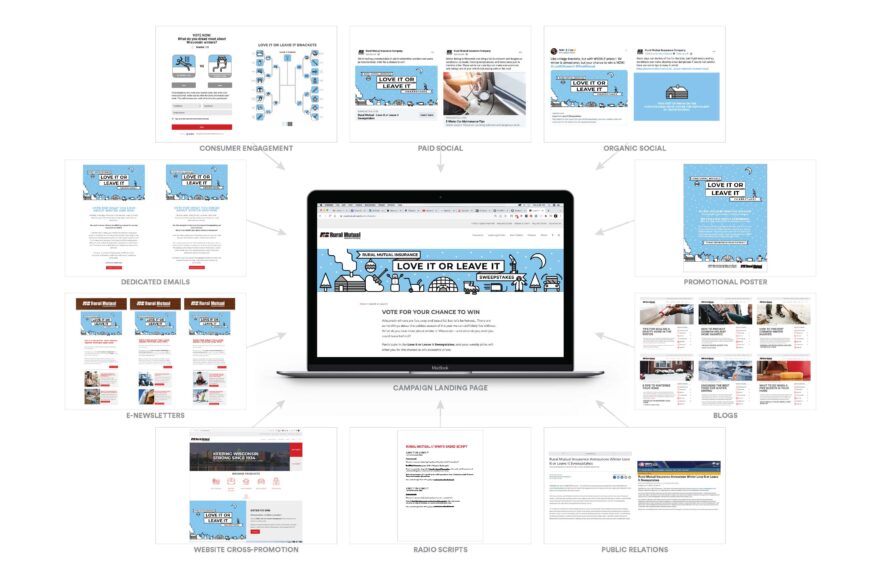 During the long winter months, we asked consumers to vote for their most and least favorite aspects of Wisconsin winters.
Grow Your Ag Knowledge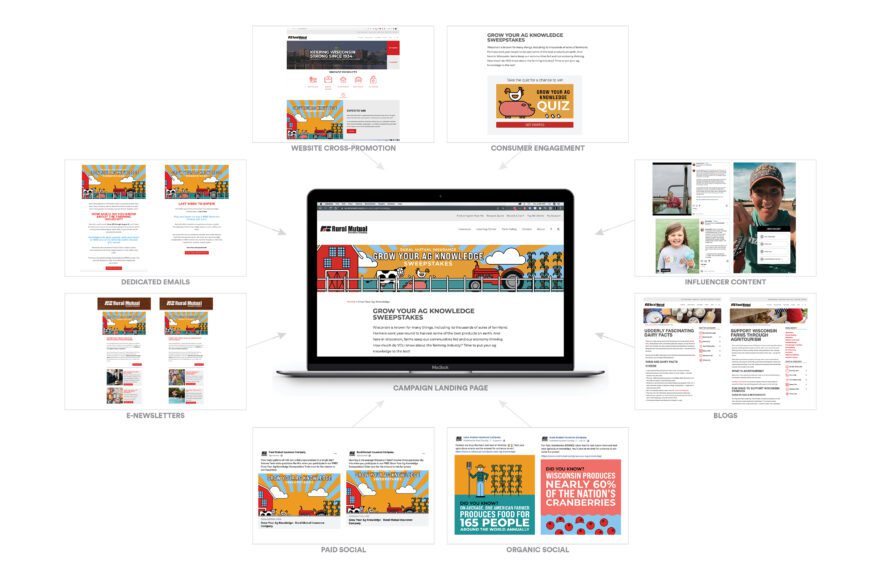 During National Dairy Month, which takes place every June, we challenged consumers to test their knowledge of the state's second largest industry.
Promoting thought leadership by partnering with internal experts and influencers
We are regularly partnering with industry influencers in an effort to extend our clients' audiences and enhance the credibility of their brands' messages.
Chris Schlechta, RMIC's safety and loss control manager, and Becca Hilby, a Wisconsin-based influencer, visit Weigel Dairy Farm.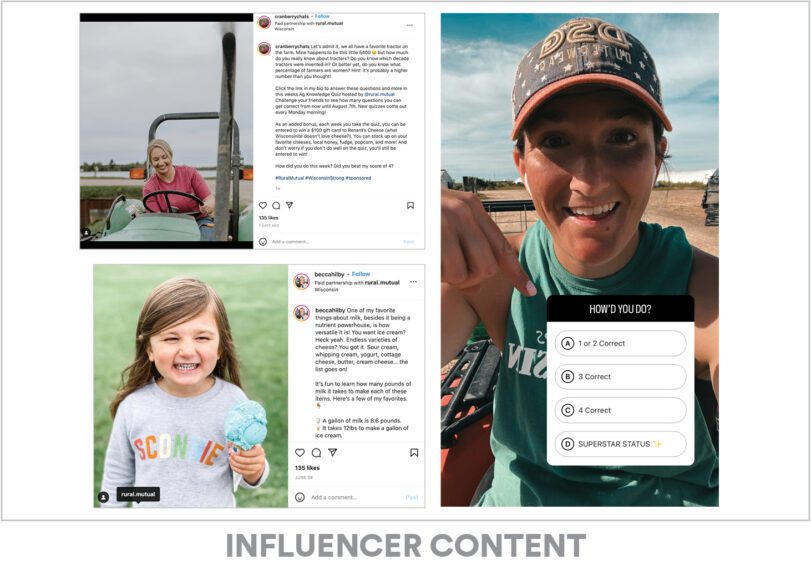 Driving leads with targeted digital, social, and retargeting ads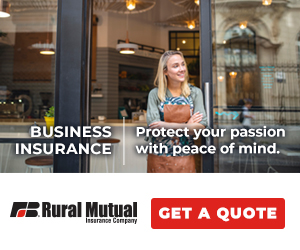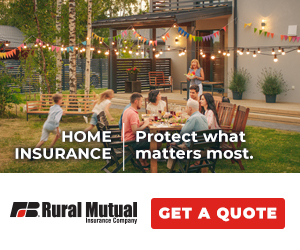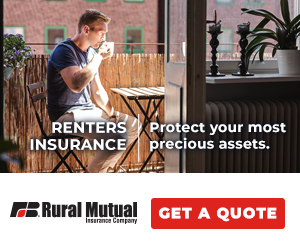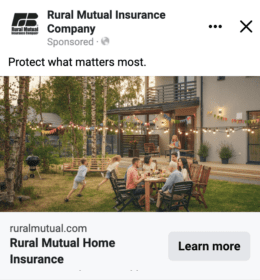 We implemented highly targeted media efforts to efficiently expand reach and increased brand awareness.
Growing goodwill and organic traffic with blogs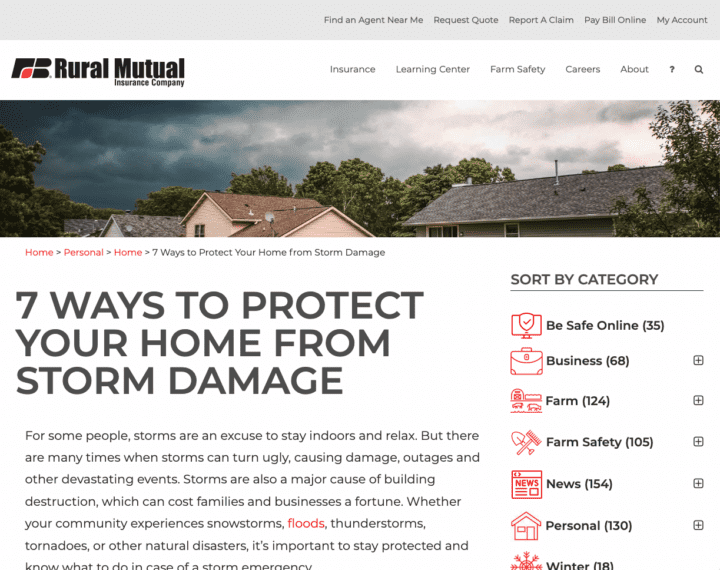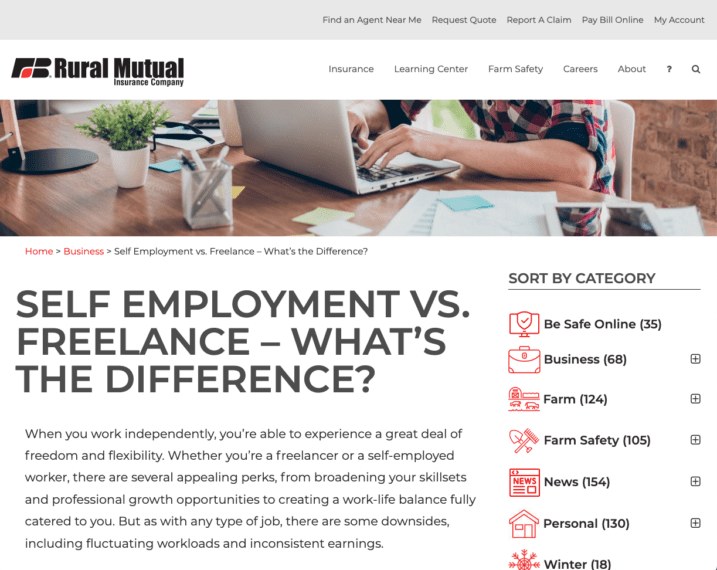 Nurturing and converting leads with customized email newsletters
Monthly email newsletters add value and keep RMIC top of mind — and inbox. As a result, we are rewarded with open and click-through rates that far exceed industry norms.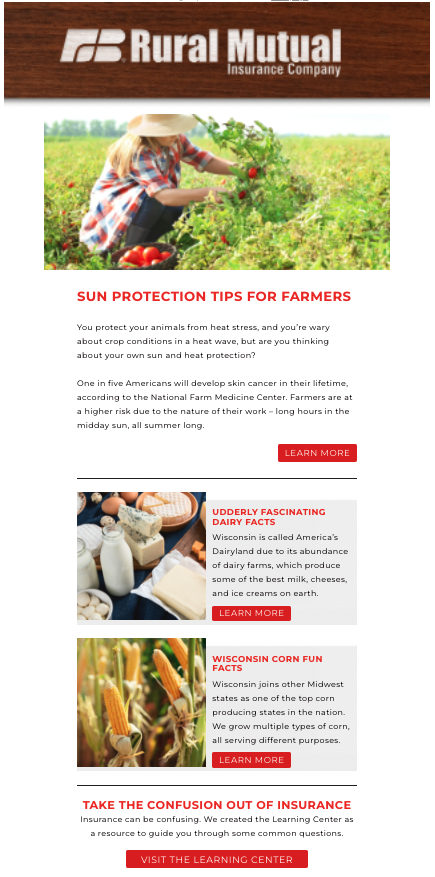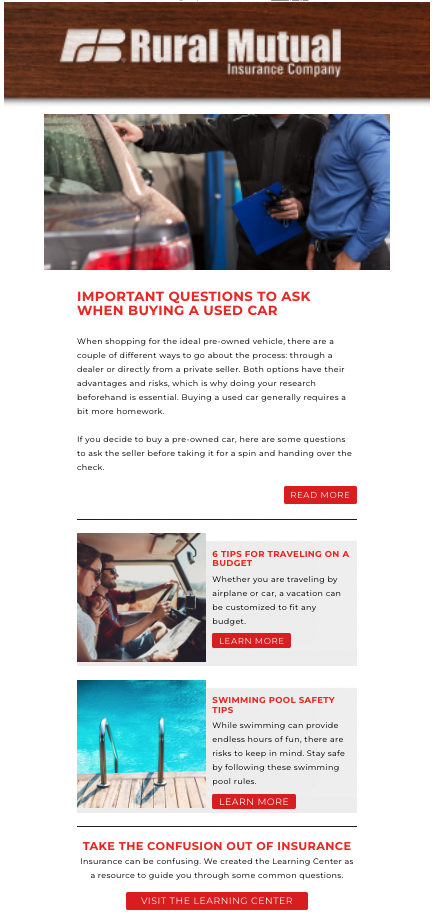 Converting inbound traffic with valuable, downloadable content
We create insightful, downloadable content pieces that increase credibility, capture first-party data, and initiate relationships with current and prospective customers.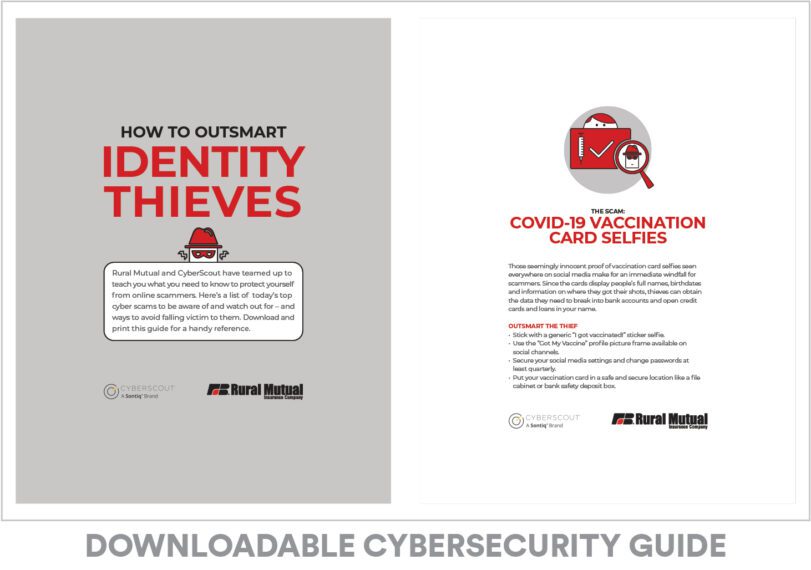 Producing awareness and organic traffic through public relations
Augmenting integrated content campaigns and blogging efforts with PR drives top-of-funnel awareness and organic web traffic. (Click articles to read.)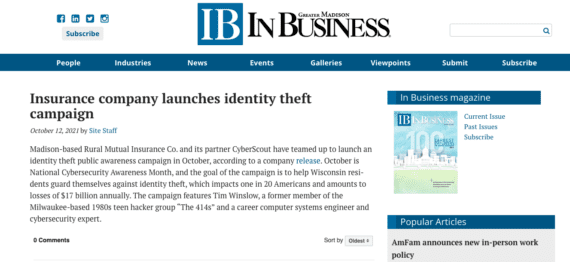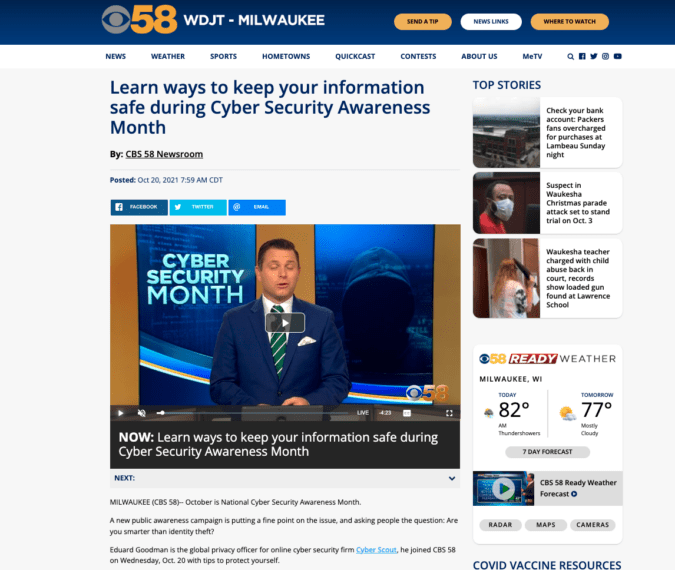 Optimizing local search and pay-per-click
Meticulously maintaining accurate listings for agencies and agents through Google and all directories has vaulted RMIC past national competitors for organic SEO. Utilizing RMIC's inherent advantage as a local provider through long tail keywords has also enabled them to outperform the big players in paid search.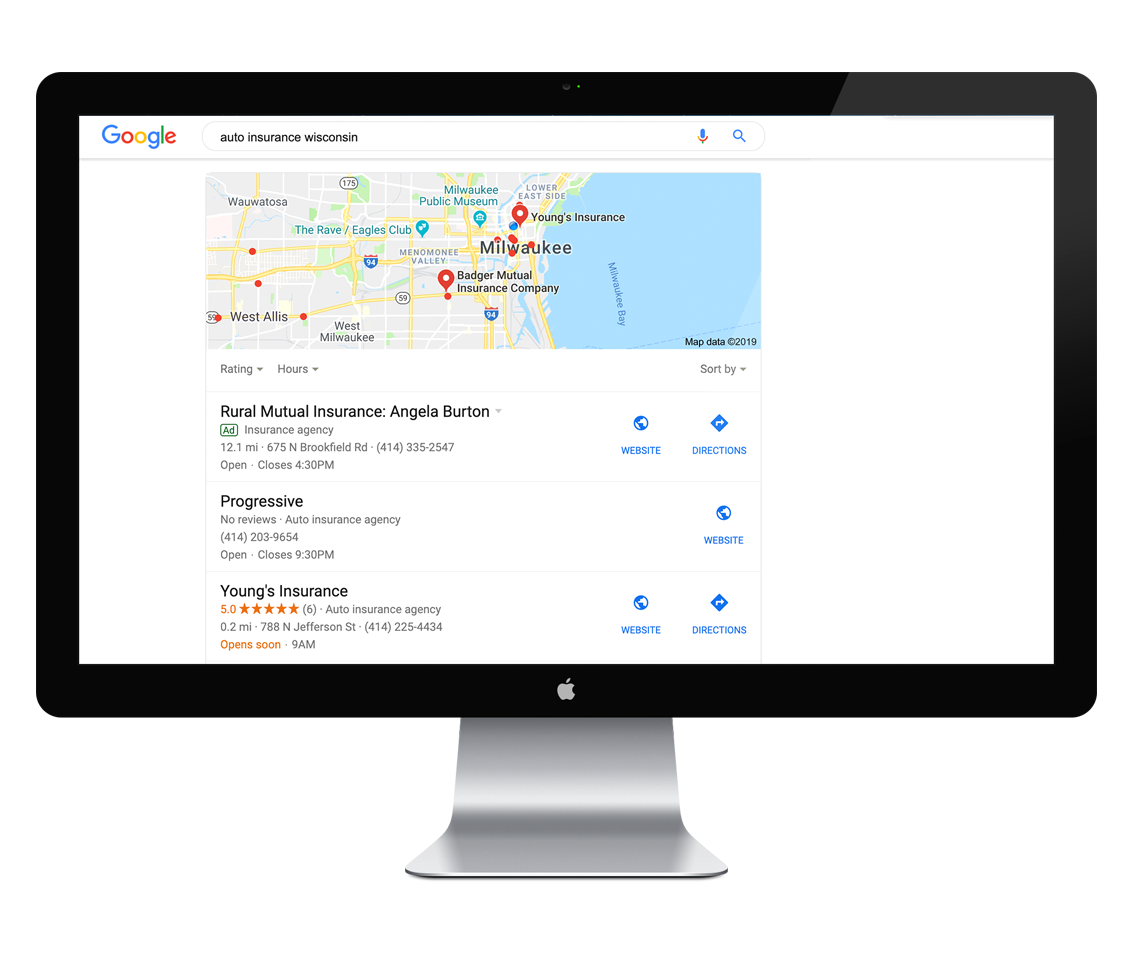 Creativity in AdWords strategy
Fierce competition in the insurance category for keywords required us to dig deeper, finding even more creative strategies. When implemented, cost-per-click (CPC) dropped dramatically and revenues from PPC efforts doubled year over year.
Client partnership produces results
Our close relationship with RMIC has enabled a consistently tight integration of efforts across the marketing spectrum. Together, we have found that great communication, trust, and coordination produces outstanding results.
Results
+30%
Increase in website visitors YOY – 3 yr avg
+31%
Increase in organic traffic to website YOY- 3 yr avg
+70%
Increase in website traffic from social media – 3 yr avg
+228%
Increase in ppc ad clicks YOY – 3 yr avg
+156%
Increase in conversion YOY – 3 yr avg