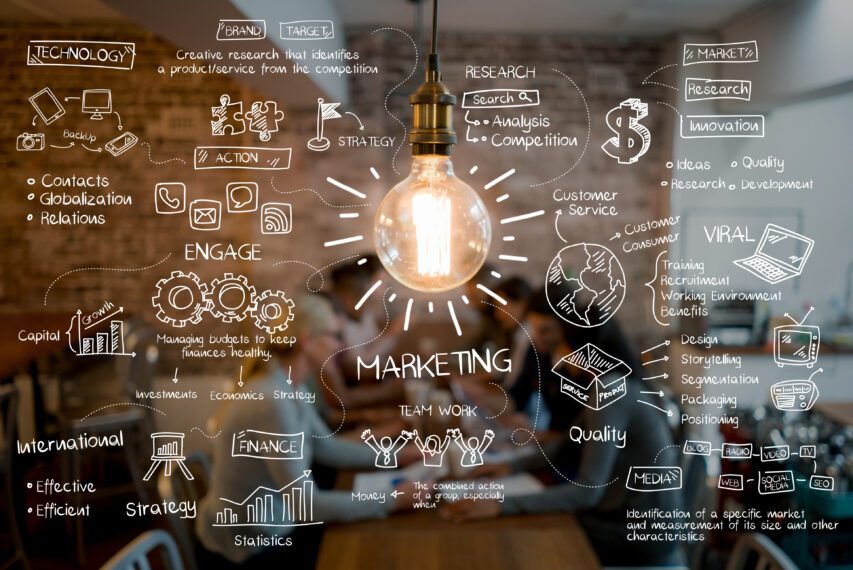 This blog is the first piece in a three-part series outlining why strategic marketing is important and how an integrated marketing agency might be a good fit for helping you achieve your goals. Keep an eye on the STIR Insights page to read more.
Whether you are a small business looking to raise awareness and propel sales or a corporation that wants to change consumer perceptions, strategic marketing is essential to meeting these goals. Let's dive into the importance of strategic marketing and how to apply various tried and true approaches.
What is strategic marketing?
Do you feel like your brand is getting lost in the noise? Do you know exactly who your target consumer is? Do you feel like you are reaching people at the most advantageous moments? Strategic marketing is just that: crafting and sending the right message to the right people at the right time.
Smart marketing can help achieve a variety of business goals:
Generating awareness and keeping your brand top of mind when target consumers are searching for a product or service.
Obtaining new customers by converting them through the sales pipeline.
Gaining distribution through new market channels in which you can promote your brand, product, or services.
Increasing sales.
Improving profit margins.
Think of marketing like a funnel — a concept that starts out broad and becomes more narrowly focused as time progresses. The funnel represents how marketing helps convert general awareness and impressions into actual sales and leads.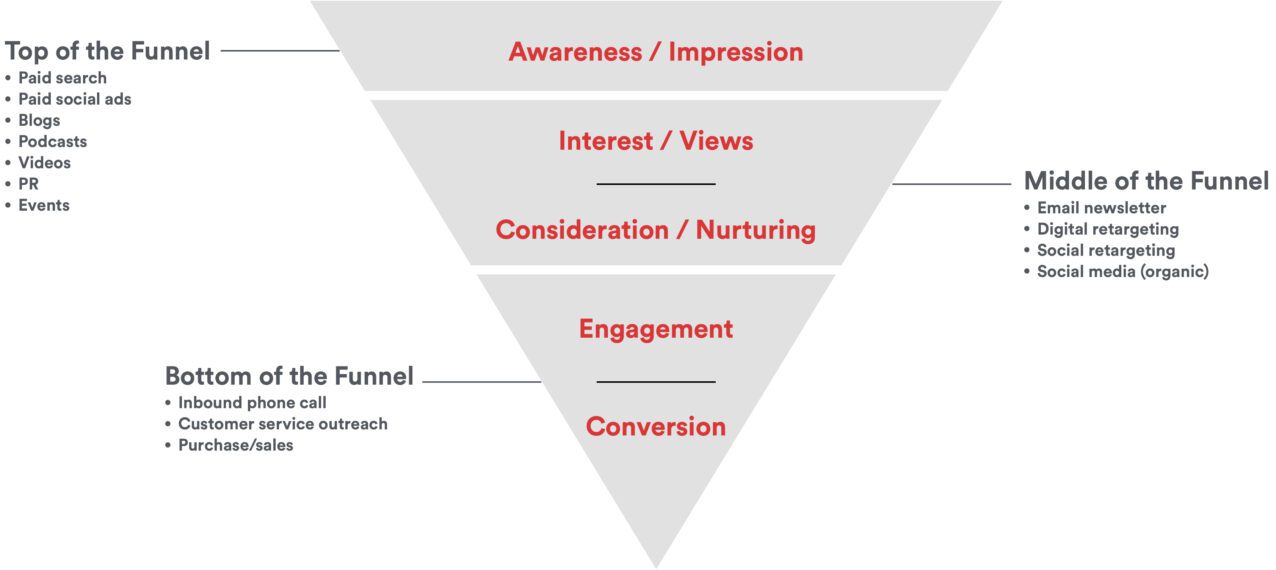 The top of the funnel starts with awareness and impressions, which simply involve getting the word out about your brand or product.
From there, the marketing tools that help drive awareness will move interested consumers down the funnel. In this middle stage, consumers will begin to actively think about your product and perhaps add it to their consideration set.
Each of these vehicles help nurture the relationship between your brand and your target consumer. As they further consider your product or service, they reach the final stage of the funnel, which entails active engagement, and ultimately, conversion.
Getting your target audience into the funnel starts with a strong foundational brand strategy.
Develop a marketing strategy that works
Crafting the right marketing strategy is not a one-and-done task. Here are some essential steps to take to pinpoint who you should be talking to, what to say, and how to say it.
First, define your marketing goals.
What do you want to accomplish? What is your unique selling proposition — the point of difference that makes you stand out among the competition? Setting goals will help you develop the key messages and points you want to deliver and promote.
Know how to effectively reach your target audience.
Classify these audiences into personas supported by in-depth demographic and psychographic data. Segment your audience based on their personal values, attitudes, and behaviors, then tailor your messages accordingly.
Build a website that performs.
Your brand's website is viewed as your home base. Customers will likely discover and learn more about you online, so make sure your website is always up to date. This includes a user-friendly ecommerce storefront, accurate business contact information, and content that expresses thought leadership and expertise. Measure site performance with analytics tools regularly and optimize what needs to be adjusted.
Create and share valuable content.
You know your brand best. Develop materials that amplify your brand voice through platforms like video, blog posts, articles, and public relations.
Communicate through email marketing.
Start with choosing a strong customer relationship management (CRM) platform. This platform keeps track of your relationship with your customers, from interactions, like clicks, to general notes. Look for free trials when available, think of who you might train on the system and how easy it is to learn, and familiarize yourself with the features of each before deciding. Embed an email signup form on your website to build a potential customer list. Determine the proper frequency to send emails to your audience as well as the content to share. Know some common email marketing mistakes and how to avoid them, then measure email performance through metrics such as open rate and click rate.
Get social.
Create an editorial calendar that includes information to share on your social channels with your followers.
Advertise your business online.
You can use vehicles like banner advertisements, social media advertisements, video advertisements, and search engine optimization (SEO). The possibilities are endless.
Consider traditional advertising.
Materials including brochures, flyers, or print advertisements can have more longevity than digital advertisements, all while helping to build trust with your audience. In 2021, about 56% of consumers found print marketing to be the most reliable form of marketing.
Invest in search engine optimization (SEO).
Optimizing your website's content will help it appear higher in search engine results. Tailoring your website to these "guidelines" will help your website's content get natural attention. The higher it appears in search results; the more likely people are to visit.
Consider an agency partner
Consumers are bombarded with messages all day long. In fact, the average person encounters anywhere from 4,000-10,000 ads per day. How can you make your brand experience different from others? Marketing agencies have the power to view your brand from a new lens, thereby producing innovative solutions that allow your brand to shine.
To learn more about how a marketing agency can help grow your business, reach out to Brian Bennett for a free consultation.
Please take our brief survey to let us know which marketing service(s) you'd be most likely to outsource.