A New Journey Begins
Throughout 2021, STIR supported the Funeral Service Foundation in its partnership with the ICCFA (International Cemetery, Cremation & Funeral Association) Educational Foundation to build a new program aimed at recruiting military veterans for careers in funeral service. The mission of the program is to engage, recruit, and hire military veterans into various careers within the funeral service profession, including those within funeral homes, crematories, cemeteries, insurance sales, and all levels of support roles.
STIR named the program Journey to Serve and designed the logo to be used across all materials.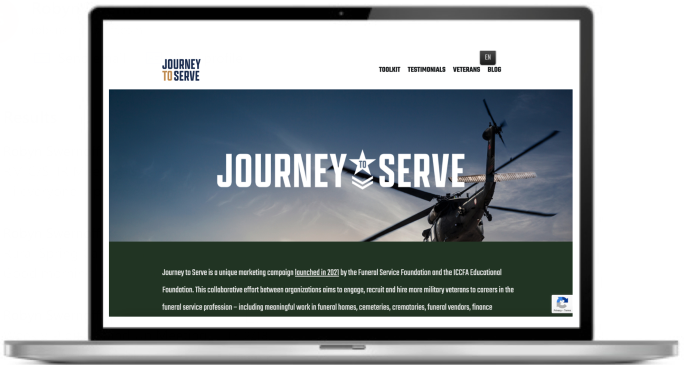 STIR began the project by building a website to house the Journey To Serve messaging as well as downloadable recruitment toolkit materials. We also developed a video to tell the Journey to Serve story in a powerful, visual way. After a successful U.S. launch, STIR translated and recreated the website, video, and all toolkit materials to French for a second launch in Canada.
Spreading the Message
Comprehensive Journey to Serve toolkits featuring customizable assets were developed for two distinct audiences: veterans and current funeral service professionals. The purpose of the toolkit materials was to make finding qualified personnel easier by offering free resources to help communicate with veterans and recruit them effectively.
To help funeral businesses better communicate with and recruit veterans, STIR wrote, designed, and produced a host of valuable marketing and communication materials, including: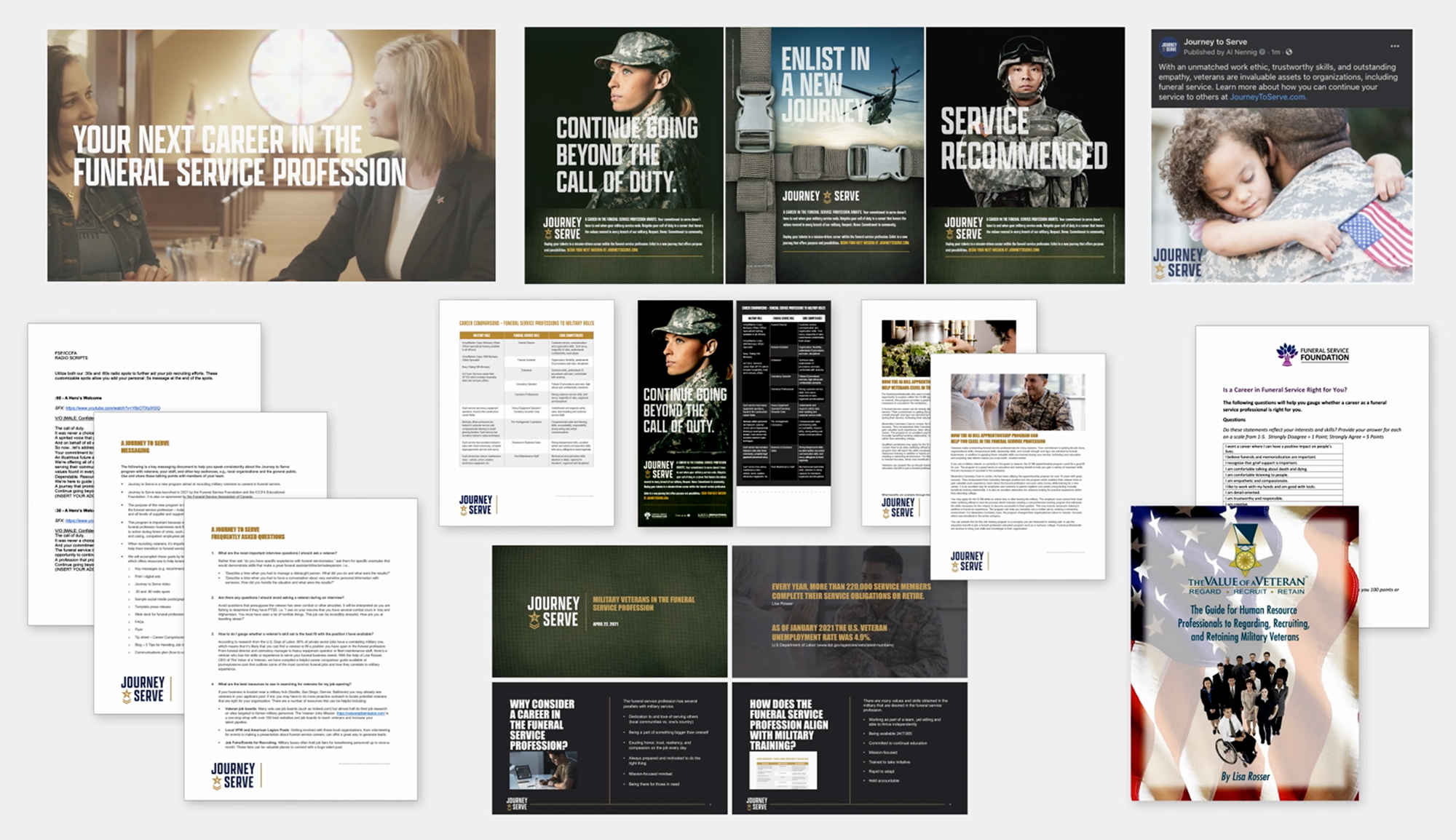 Key program messages
Promotional video
Print and digital ads
Postcard
Brochure
Tip sheet
:30 and :60 radio spots
Sample social media posts/graphics
Templated press release
Presentation for funeral professionals
FAQs
Blog posts
Growing Journey to Serve
To introduce the Journey to Serve recruitment initiative to new audiences, STIR has continued to develop new materials for use in paid media as well as at industry events, job fairs, and trade shows.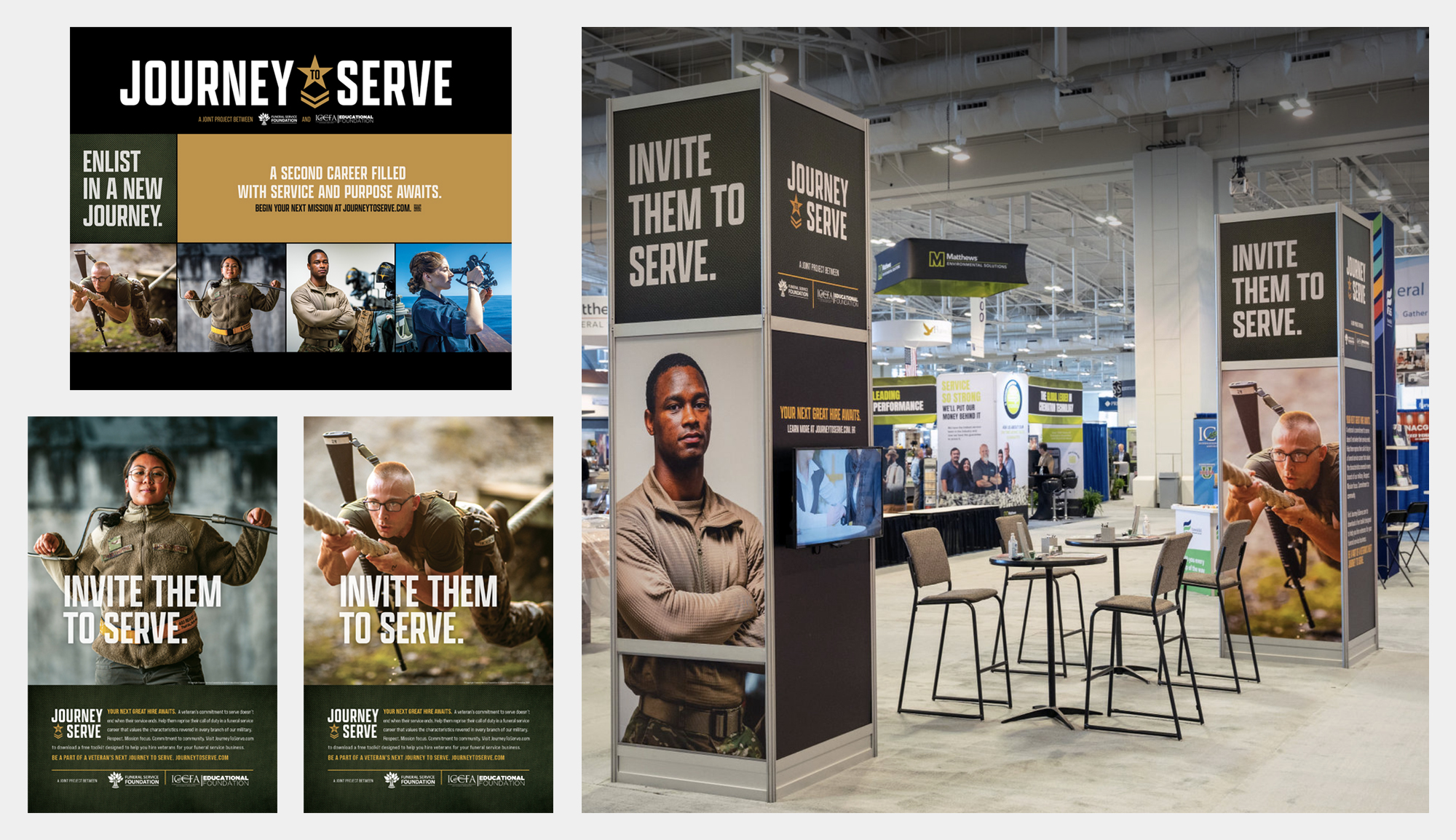 The awareness for our program was raised, which reached our goals. I don't think there's anything they can improve on – their creativeness stood out the most about their work – it was their superpower.
*First six months from launch in April 2021