For more than a decade, UpCity's mission has been – and continues to be – to help businesses find B2B service providers they can trust. The UpCity Recommendability Rating was developed to determine a service provider's credibility and recommendability, giving UpCity the confidence to recommend them to the more than 1.5 million businesses that visit their site.

Each year, UpCity analyzes and scores more than 70,000 service providers based on their UpCity Recommendability Rating and acknowledges the top national and local providers with an UpCity Excellence Award. The results are in, and we won an UpCity Local Excellence Award for Milwaukee!

We are ecstatic to announce that the STIR team has been recognized as one of the top B2B service providers of 2021 in the Milwaukee area by UpCity! At STIR, we drive our clients' success through creative, engaging branding and communication strategies that appeal to their target audiences. Simply stated, we help our customers reach more people and drive high-quality leads.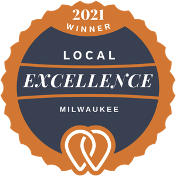 Mark Tepper, Senior Vice President of Sales & Customer Success at UpCity, had this to say about STIR:
"STIR provides their clients with an extremely high level of talent. This team balances creativity with meticulously detailed strategy development that results in a powerful, unified brand. Congratulations on the 2021 Local Excellence Award!"
This recognition has been driven in large part by our 5-star review rating on UpCity. Here are a few of our favorite pieces of feedback we've received from our incredible customers:
"I enjoy working with Stir because they are the experts in everything they do. I know exactly what the steps of the process will be and they are very thorough. The agency follows through with what is promised and they are innovators." – Julie Kinunen

"Christel and her team are an invaluable resource. They have great ideas that end up in great pitches with a very high success rate! I have worked with Christel for over 10 years and have always been impressed with her innovative ideas and professionalism!" – Carey Bartlett

"Stir has been great strategic partner for ManpowerGroup. Christel and Josh are easy to work with and extremely knowledgeable, organized, and responsive in helping us evolve and strengthen our paid social media campaigns. I highly recommend them and their entire team to anyone looking to take their brand or business to the next level." – Christina Roth
Thank you to the team at UpCity for this wonderful award, and thanks to all of our clients for their business and loyalty. We work hard every day to offer solutions to meet the needs of each of our clients, and we look forward to continuing to offer current and creative ways to help businesses sustain a strong marketing and digital presence. Want to learn more? Get in touch and see what STIR can do for you.